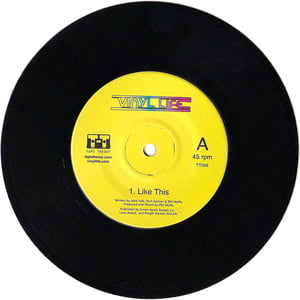 $

6.00
Complete with Orchestra Hits and feedback, this jam evokes
which decade of electronic music? Pretty hard to define, "bet ya never heard it like this before." This is a limited edition of 300 seven inch record. On the A side (45 RPM) is the album mix from the Vinyl Life self titled debut. The B side (33RPM) features a remix from the self-proclaimed King Of Soulful Electro Funk, NYC's own Reeno. You'll be feeling very analog when you hear the real Prophet 5 bass. Not to be missed is the inside cut on the B which is a remake of De La Soul's classic "Take It Off" which was also on their first album, Three Feet High and Rising. Featured MC's include J-Zone, Ray West, and Tru Pro. It was 20 years ago that De La told the world what trends to take off. It's 2009 and the list needed an update. J-Zone is well known in the underground for his hilarious rhymes and production. Ray West recently produced some soon to be released albums with DITC's AG, OC, and Sadat X. Tru Pro the other half of Smash Mechanics is also a remixer of Vinyl Life's "Innovation". This is not available elsewhere on wax.
Like This (Original Mix) by Vinyl Life
Like This (Reeno Remix) by Vinyl Life

Take It Off (feat. J-Zone, Ray West, & Tru Pro) by Vinyl Life



All orders come with free stickers and download!